Additional fees may apply*
Self Storage in Encinitas
About Us
The sizes you need at affordable prices!
Welcome to Encinitas Self Storage! We have been helping San Diego's North County Coastal residents with their storage needs since 1986. We are conveniently located in the heart of Encinitas on Encinitas Boulevard, squarely between Interstate 5 and El Camino Real.
Through the years, we have helped tens of thousands of Encinitas residents get the storage they need at the right price. Our self storage units in Leucadia - Encinitas come in a variety of sizes to fit everyone's needs. We have units as small as 3'x4' and as large as 20'x21'. If you would like the convenience of a drive-up unit or the cost-savings of a hallway space, we can accommodate any need. We have wide driveways and wide hallways to make everything easier. If you choose an upstairs unit, take advantage of our lift and our flat-bed carts for the convenience of fast, stress-free moving. In addition to offering RV & boat storage, we also offer a FREE move-in truck with driver!
We offer a "1st Year Price Guarantee" so you will know exactly how much your rent will be during your first 12 months. Most of our competitors will increase your rent substantially after just a couple of months. Encinitas Self Storage is proud to be locally owned and operated. We are active members of the community and proud supporters of our military and the annual Marines' Toys for Tots drive.
Come check out Encinitas Self Storage! 
Access Hours
---
Mon-Sat 7:00 am - 6:30 pm
Sun 7:00 am - 5:30 pm
Closed Major Holidays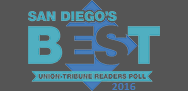 *SPACE SIZE: Advertised space sizes are approximate and for comparison purposes only. Spaces may be smaller or larger than advertised. Spaces are not rented by the square foot, and rent is not based on square-foot measurements.  
**All Internet specials are at select locations on select units. Offer applies to new rentals by new customers only at participating San Diego Self Storage locations. One offer per customer. Offer available for limited locations and is subject to availability. Applicable administration and insurance fees are not included in this offer. Offer has no cash value. No refunds or substitutions are permitted. Use of Move-In Truck is based on availability and terms and restrictions apply. Features and amenities vary by location.